The International Issues Discussion (IID) series at Ryerson University is pleased to present its seventh event of the Winter 2019 term: "Trump and the Media."
Our guest will be Sam Tanenhaus, contributing columnist to Bloomberg View and the U.S. Writer at Large for the British monthly, Prospect. He was previously on the staff at The New York Times, where he was editor (in chief) of both the Sunday Book Review (2004-13) and the Week in Review (2008-2010) and then Writer at Large (2013-14). Before joining the Times he was a contributing editor at Vanity Fair, writing feature articles on politics and culture (1999-2004). His books include Whittaker Chambers: A Biography (winner of the Los Angeles Times Book Prize, finalist for both the National Book Award and Pulitzer Prize; and a national best-seller) and The Death of Conservatism (chosen by The New Yorker as one of its editors' "100 Favorite Books" of 2009). His articles and essays have appeared in the New York Times Book Review, New York Times Magazine, New Yorker, New York Review of Books, New Republic, Atlantic, Esquire, Newsweek, Slate, Time, Wall Street Journal, Washington Post, and many other publications in the United States and abroad. He was a Riggio Lecturer at The New School for Social Research from 2009 to 2014 and a visiting professor at St. Michael's College (at the University of Toronto) in 2018. He also lectured at Harvard, Yale, Princeton, Columbia, and New York University, as well as at the White House and at the Clinton, Kennedy, and Johnson Presidential libraries, the Aspen Ideas Festival, and the Sun Valley Writers Conference. He is currently completing a biography of William F. Buckley Jr.
 His talk will be Wednesday, March 27th at 6:30 pm, in ENG 103 (George Vari Engineering and Computing Centre: 245 Church Street, at the corner of Gould and Church: see www.ryerson.ca/maps ) at Ryerson University, Toronto.
All are welcome and admission is free. Please circulate notice of the event as widely as possible. A poster advertising the talk is attached.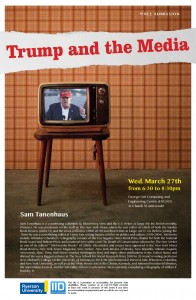 Founded in 2005, the IID is a non-partisan, student-led forum designed to engage all members of the Ryerson University community on major events and issues in contemporary global affairs through reasoned, objective, and scholarly discourse. For further details about the IID and our series please see http://iid.kislenko.com  or contact the IID student leaders at iidseries@gmail.com