The International Issues Discussion (IID) series at Ryerson University is pleased to present its second event of the Winter 2019 term: "A 'New' Mexico? What's Next for a Country in Change."
Our guests will be:
Adriana Vega, Senior Manager of International Government Affairs at Scotiabank. Formerly, she was the Director of International Policy at The Canadian Chamber of Commerce and Executive Director of the Chamber's affiliate, The Canadian Services Coalition. Adriana's expertise is on trade policy and international economic affairs. Previous to her role at the Canadian Chamber, Adriana led the policy department at the UK India Business Council, based in London, U.K., and worked in trade promotion roles with the Canadian government and with the trade agencies of Mexico and Singapore. Ms. Vega holds a Master's degree in International Affairs by The Norman Paterson School of International Affairs (NPSIA) at Carleton University in Ottawa.
Roberto Esteban Alvarez, currently the Partnerships Lead for 6 Degrees (Institute for Canadian Citizenship), the global platform and forum on immigration, diversity and inclusion. Roberto served as Advisor and Executive Assistant to the President Emeritus of PEN International, John Ralston Saul, where he played a leading role in coordinating two PEN International delegations to Mexico to promote freedom of expression and the protection of journalists. Roberto has worked for Mexico's former export and investment agency, Bancomext and has been a contributor to the national newspaper, Milenio. In 2018, Roberto was called to support the shaping of the grassroots organization, ¡México Lucha Libre!, an initiative of Noble Prize nominee, Sr?a Popovi?, CANVAS and Cambio por La Patria. Roberto is currently supporting the establishment of a 6 Degrees presence in Mexico to touch upon the region's most pressing inclusion issues. He was raised in Durango, Mexico and has lived in Toronto since 2014. Alvarez holds degrees in International Affairs, Economics and Public Administration.
and
Luis Horacio Nájera, a Mexican journalist and analyst living in exile in Canada since 2008. He was the recipient of the 2010 CJFE International Press Freedom Award, and one of the 2011 Human Rights Watch Hellman/Hammet awards. A member of Massey College since 2011, and former fellow at the Citizen Lab/Canada Centre for Global Security Studies. He received a Master of Global Affairs from University of Toronto, and currently is a graduate student on Disaster and Emergency Management at York University.
Moderated by Eva Salinas, Managing Editor, OpenCanada.org, Centre for International Governance Innovation
Their talk will be Wednesday, January 30th at 6:30 pm, in ENG 103 (George Vari Engineering and Computing Centre: 245 Church Street, at the corner of Gould and Church: see www.ryerson.ca/maps) at Ryerson University, Toronto.
All are welcome and admission is free. Please circulate notice of the event as widely as possible. A poster advertising the talk is attached.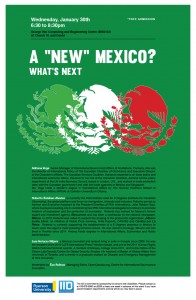 Founded in 2005, the IID is a non-partisan, student-led forum designed to engage all members of the Ryerson University community on major events and issues in contemporary global affairs through reasoned, objective, and scholarly discourse. For further details about the IID and our series please see http://iid.kislenko.com  or contact the IID student leaders at iidseries@gmail.com